When we released our Global Flight update in late 2017, we knew it would be a tough one to beat. Now, as we look back on 2018 it's not hard to see that our global update was only the beginning of something even greater. With over 11 Million flights logged across the globe, Infinite Flight users are proving that we are here to stay.
What A Year
What began as a dream to create something customers would love has flourished into a product that our team is truly proud of. Users from around the world can now carry their passion for aviation with them wherever they go, knowing that the future is only getting brighter. Infinite Flight started with a handful of aircraft and confined regions. In 2017, we launched our biggest, and most anticipated app update ever which introduced global flight on a mobile device. Since then, user engagement has only continued to increase.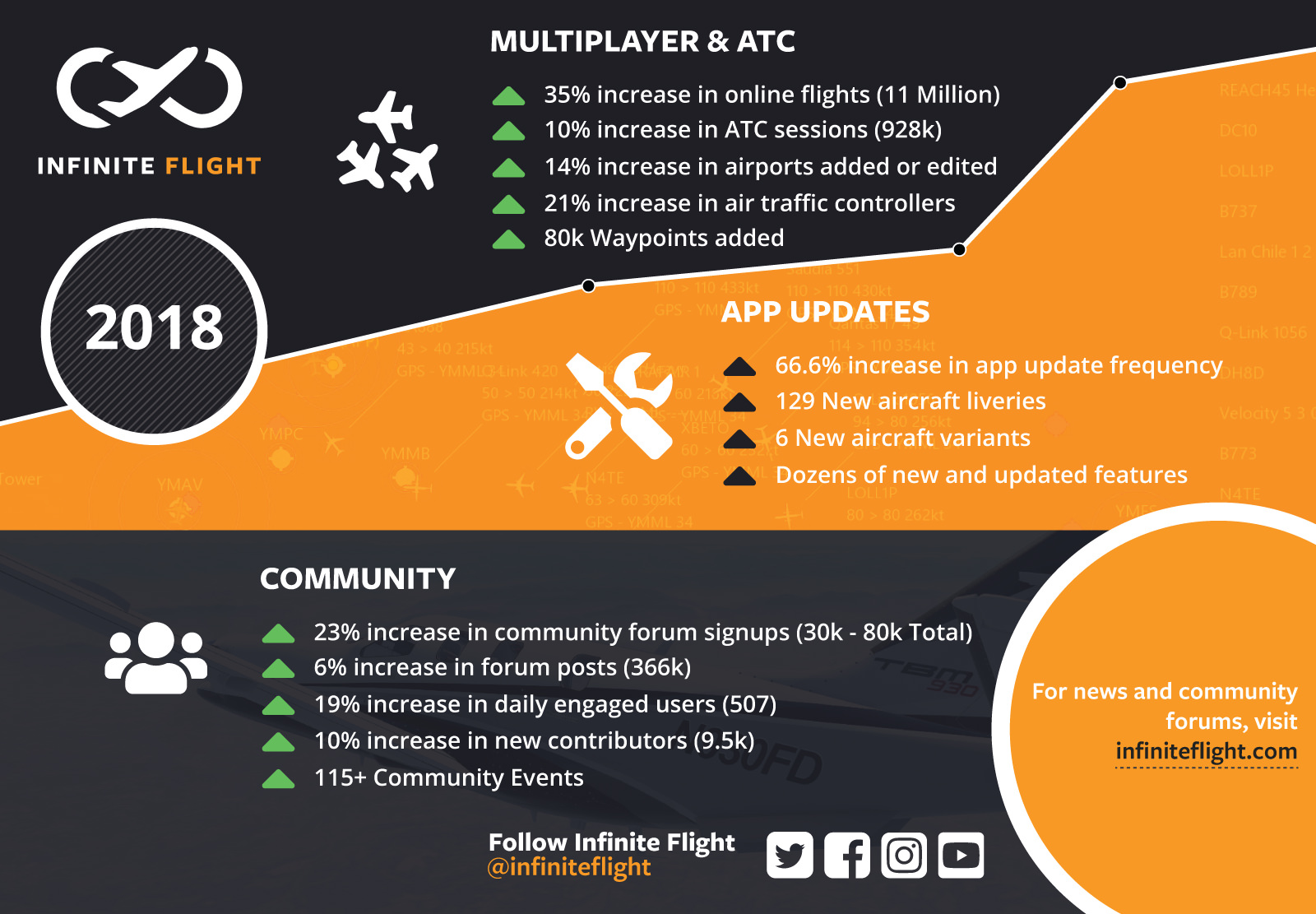 Hitting a true stride in development, 2018 gave us the largest number of updates of any year. Over the course of the year, we released 6 updates, 129 new liveries, 6 new aircraft variants, and dozens of new and updated pilot and ATC features. Our staff team also hit the road this year, and increased our investment in the flight sim community. Travelling to Las Vegas, NV, Oshkosh, WI, and Cosford, UK, expo teams brought our simulator to the masses.
App Updates
The Infinite Flight fleet of aircraft grew in big ways this year. Starting the year off was the CRJ fleet with four variants, the -200, -700, -900, and -1000. The CRJ brought with it the opportunity to add more interior textures and views, including cabin and window, as well as more camera angles from the flight deck. Also updated early in the year was the A320 family of aircraft with the addition of wing flex and new animations.
Not to be overshadowed by new aircraft, the ATC system also received some updates with multi-frequency abilities and the return of the ATIS frequency. This was amid a constant stream of over 120 new aircraft liveries by our 3D artists.
Version 18.5 brought a new general aviation aircraft to the fleet with the TBM 930. Included in the list of liveries was the famous Steveo1Kinevo paint, wearing the N851TB registration. The TBM brought new life back to the GA crowd, with its true-to-life flight physics, realistic interior and exterior turboprop engine sounds, and new suspension and door animations.
Part of the last update for the year was a soft rework of the B737 with the addition of wing flex, new camera angles, ground effect, and more in version 18.6. The 737 update also boasted new split scimitar winglets for some liveries. Interestingly, our work-in-progress Instagram post on the new winglets garnered the most engagement of the year.
As the grand finale to 2018, our developers pushed the sixth update, with a controversial but important rework of the A-10 "Hog". As the app store push drew close, we unveiled a true game changer for the simulator; a live cockpit. Indeed, our designers have been building cockpits that are ready for working instruments all year, however this was the first opportunity to truly put that work to the test. The A-10 wasn't a highly requested rework, though it was badly in need of one being one of the first aircraft in the sim. But it was the perfect candidate to bring working dials and gauges to the cockpit. For the first time, Infinite Flight pilots could fly without the HUD, using instruments only. The possibilities started to seem endless.
A Thriving Community
From day one, owners Laura Laban and Philippe Rollin have put a huge focus on the Infinite Flight community. With a now thriving community of over 80k users, including over 500 daily active users, and a growth rate of almost 10k users per year, our community of users is one of the most important reasons for doing what we do.
"[...] heading up to the Midlands for FlightSim2018 was an absolutely fantastic experience. Meeting people you interact with on a daily basis is really something that you can't describe particularly easily; it's not often that you find a group of people with so much in common."
- Ewan Fleming, Infinite Flight Community Moderator
This year, we decided to bring the sim to you. At our first ever community meet-up in Las Vegas during FlightSimExpo, our team met community members from different countries. We saw the passion first-hand, and further solidified some growing friendships. October took us to the UK for Flight Sim Show 2018, where our community turned up once again from around the world in celebration of flight simulation. We were fortunate to meet over 50 members of the Infinite Flight Community, where we heard stories of how Infinite Flight has made a difference in your lives.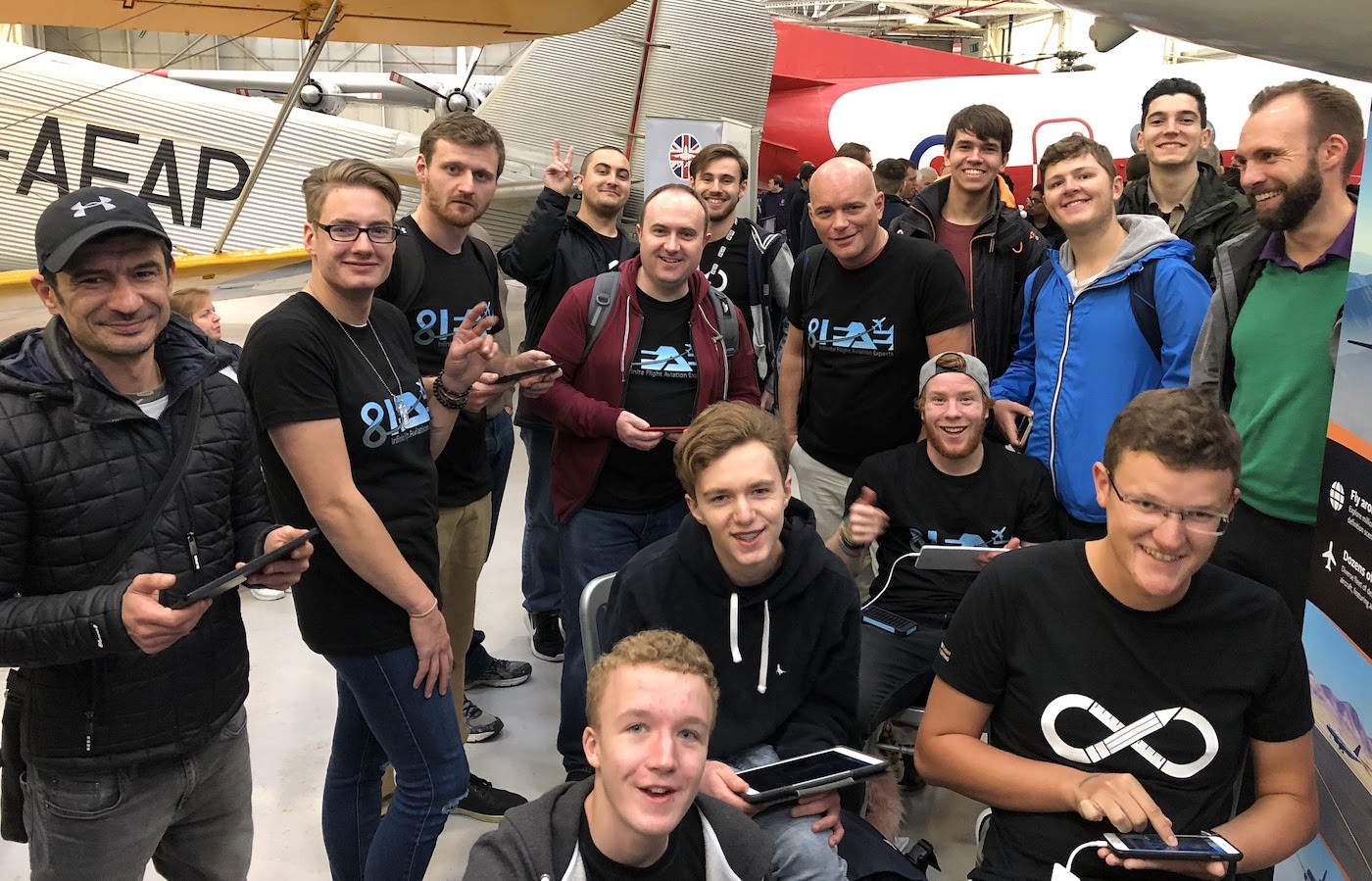 "One of the best moments of this year for me was in Cosford, UK, for the second trade show we've ever been to, seeing all the community members, flying together on their devices, right there, under the wing of an airplane. It was like they had all met in person before."
- Laura Laban, Infinite Flight Co-Founder & CEO
In-app community events are part of what foster a healthy and engaged group of Infinite Flight users. This happens through virtual airlines, flying clubs, as well as official flash flights and our signature Fright Night Flight events. We hosted over 115 official events in 2018 with tens of thousands of participants, frequently representing over 10% of the world's flight traffic across all three servers.
Thank you, to all of our community members who continue to support Infinite Flight, and show such passion and commitment to what we do.
Community Management and Data
Infinite Flight wouldn't be what it is without a committed group of volunteers. Many official staff and team members exist due to their involvement in the community. And a forum of nearly 100k users doesn't moderate itself! Our ATC and Community mods are a vital part of our volunteer community, and work hard to keep things running smoothly.
In addition to community managers, there is an almost secret society of people who quickly and quietly work behind the scenes to bring you accurate airport layouts. The Infinite Flight Airport Editors take pride in adding detailed taxiway, parking, and runway data to our airport repository. Over 1600 airports were added or edited in 2018 alone.
Our communications team has also taken a new approach to how information is shared with you. We understand the need for transparent and frequent communication and that's what Infinite Flight is committed to delivering. The team has more ideas to take communication to the next level in 2019 so stay tuned for that!
ATC
Air Traffic Control is a big part of what makes Infinite Flight stand out from the rest. Not only can you receive ATC instruction in-app, but it happens with other pilots around you. It's no surprise then, that our Infinite Flight controllers logged over 6.5M ground, tower, and radar operations in 2018. That's a lot of ops! Our ATC community manager, Tyler was excited about a much needed addition to the app this year:
2018 reintroduced the ATIS frequency which was absolutely critical for controllers in a global environment. The ATIS facelift allows us to paint a picture of the airport conditions and procedures in real time before a pilot ever comes in contact with the controller.
- Tyler Shelton, Infinite Flight ATC Community Manager
Our Expert Server IFATC group continues to grow. This year we saw a 21% increase in our expert server ATC compliment, with 280 controllers over the course of the year. Thanks, to this amazing group for keeping the Infinite Flight skies safe and under control!
Onward and Upward
The Infinite Flight staff team is a team of people who truly care about the product and the people that use it. This year gave us the opportunity to form more bonds and grow as a team.
I got the opportunity to finally meet the some of the people I work for and with as Infinite Flight attended FlightSim2018 at RAF Cosford, UK. I literally had the time of my life. Not only did I finally get the chance to meet these people that I've had so many chats & phone calls with, I also had the opportunity to meet many of our users, as well as introduce Infinite Flight to new people. I had so much fun! It's pretty hard to comprehend how big this thing is, and what effect it has on people. But I'm truly glad to be a part of the team, and that I get the chance to work with these awesome people!
- Sebastian Schyllberg, Infinite Flight Customer Support
As we wrap up this year, we want to say thank you, to everyone involved in making this all come together. Everyone from our developers, designers, community managers, communications team, moderators, airport editors, air traffic controllers, and especially you; the pilots. Without all of us, Infinite Flight wouldn't be soaring to new heights with each update.
We head into 2019 with more exciting community events and expos planned, and we hope to see many of you there. Infinite Flight is fortunate to be a part of aviation's largest event, AirVenture 2019 in Oshkosh, WI and would love to meet you. Please stop by our booth if you're lucky enough to be in attendance with us! We're also excited to share more app updates with you in the coming year. Thought you might read a spoiler here? Sorry to disappoint!
From all of us at Infinite Flight, have a very happy holiday season, and a prosperous and healthy new year!